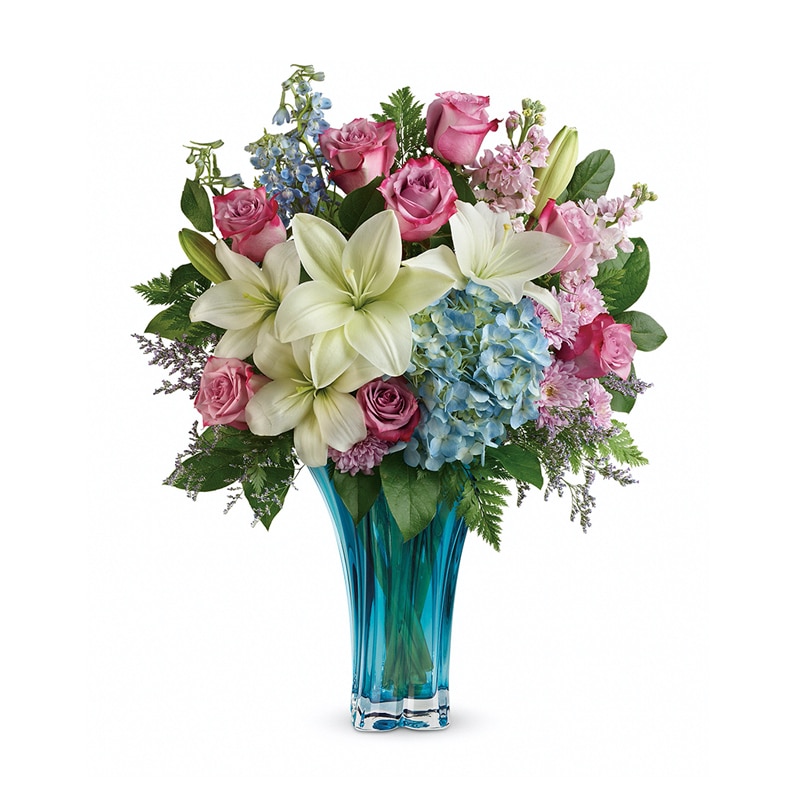 There are times when a really good bouquet of flowers just won't cut it. For certain occasions or for certain friends, especially those who really know what a superlative floral arrangement should look like, one of the best places I know to shop is Kathy's. Not only are her flowers fresh and beautiful, but her arrangements a real standout.
Kathy's Florist is a small shop but with a cutesy little charm about it, and being small you'll find that she is more than willing as well as able to assist with just about any floral detail which for me, a person totally inept at a floral arrangements as well as without any decorative skills, a much-needed blessing.
You can usually spot a floral arrangement done by Kathy, as it will contain her signature butterfly.
By far the best florist I've ever been to and I've lived in other states. Kathy has helped me with flowers 4 times now and every time was perfect. She's very honest and sweet and very helpful. I would only go to her now. She's wonderful, She knows her flowers.
A friend of mines mother passed away and she was all the way in Florida. I quickly googled florist and came across Kathy's Florist and I am so glad I did.  If i could give this company more stars I would. Thank you Kathy's Florist for putting all your love into the bouquet of flowers.
For years I have been getting flowers from Kathy's Florist for every occasion. Her flowers are always the highest quality and the design of the arrangements is creative and classy. Customer service is exceptional and they have helped me out with many last minute orders. I would highly recommend
Great service even under pressure and short notice, my son has a prom today and I forgot to order the flowers for the girl, went to kathy's florist  this morning flowers will be ready by 1:00 pm awesome!
I highly recommend Kathy's Florist. Debbie took my order and created a beautiful floral arrangement. It was perfect, and exactly what I had in mind. Super friendly and very accommodating. I will absolutely contact Kathy's every time I want to send flowers in the Fort Lauderdale area. Thanks Debbie!!
I received a beautiful tropical arrangement for my birthday.  My brother and his girlfriend called in the order from Chicago.  It was filled with Birds of Paradise, orchids, Lilly's, and more and came in a cool wooden Asian looking "vase".  I was very impressed!  The arrangement arrived a week ago and is still going strong!  It was delivered to my door by a kindly woman.  I will defiantly use Kathy's for my own needs in the future
I didn't know what I wanted when it came to flowers, and Debbie at Kathy's flowers really helped me out! The bouquets and centerpieces were all beautiful and really tied my vision of "Palm Beach Backyard" together!
This is the best place in Ft. Lauderdale for weddings, special events, or just to get yourself out of hot water!
When my wife and I got married we had two weddings. We got married in a small ceremony at a Church and then had our big and beautiful Country Club wedding. Kathy did both, did them for the most reasonable prices around, and did them with flowers that were too beautiful to believe!  I have attached several pictures of our wedding flowers as well as a Thanksgiving centerpiece that my mother in law sent us from Kathy. They say that a picture speaks a thousand words…
How much are these DOZEN speaking to you???
Aren't the flowers beautiful?  And she is so reasonable. I have been to many other florists because I like to preempt the trouble that I am going to get into with my wife. Guys, how many times do you get some ugly wilty thing for $80 bucks and it lasts 3 days before it dies?  This has never happened here. Here you get charged a fair price and you always get something out of a magazine.  Thank you Kathy for getting my marriage started and keeping it going. You have my loyalty.